NY Daily News Business Review
On Tuesday, January 9th 2007 Fabric City Inc. was featured in New York's Daily News' Queens Business Review Section. View the newspaper clip and full text article here.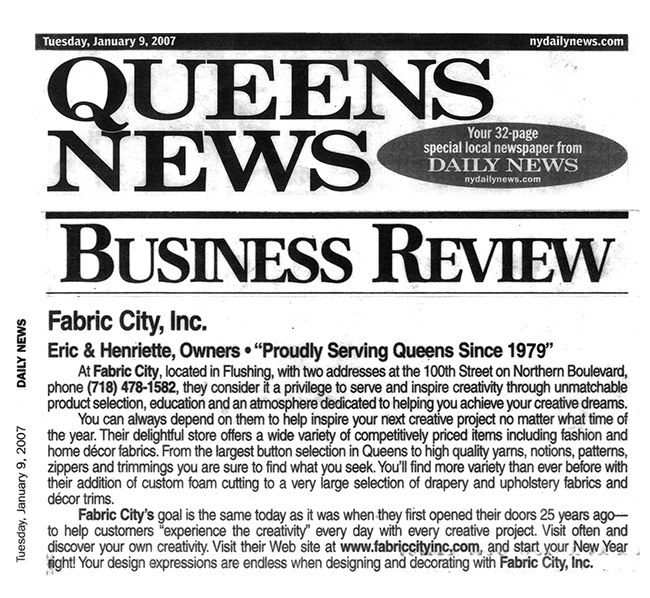 Fabric City, Inc.
Eric & Henriette, Owners "Proudly Serving Queens Since 1979"
At Fabric City, located in Flushing with two addresses at 100th Street on Northern Boulevard, Phone (718) 478-1582, they consider it a privilege to serve and inspire creativity through unmatchable product selection, education and an atmosphere dedicated to helping you achieve your creative dreams.
You can always depend on them to help inspire your next creative project no matter what time of the year. Their delightful store offers a wide variety of competitively priced items including fashion and home decor fabrics. From the largest button selection in Queens to high quality yarns, notions, patterns, zippers and trimmings you are sure to find what you seek. You'll find more variety than ever before with their addition of foam cutting to a very large selection of drapery and upholstery fabrics and decor trims.
Fabric City's goal is the same today as it was when they first opened their doors 25 years ago — to help customers "experience the creativity" every day with every project. Visit often and discover your own creativity. Visit their website at fabriccityinc.com and start your New Year right! Your design expressions are endless when designing and decorating with Fabric City Inc.