New World Trade Center Design Proposal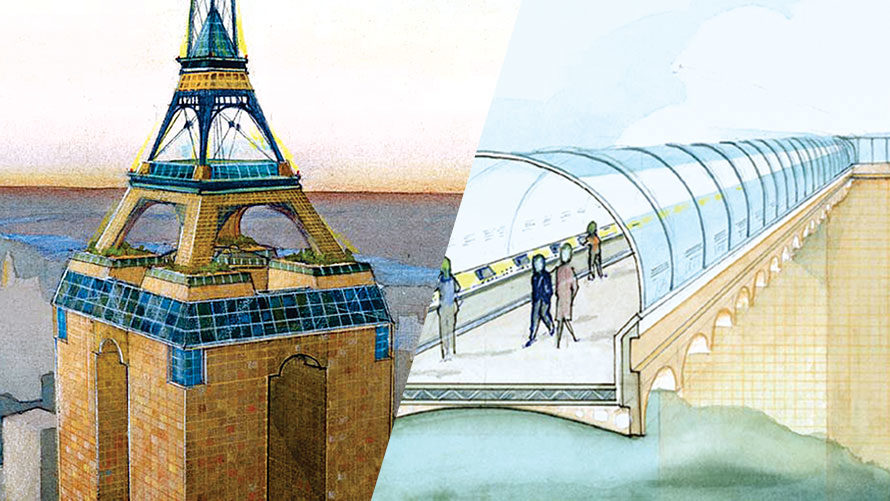 Description: New World Trade Center Design Proposal
Designer: Eric Gerdes
---
Why not build the greatest, tallest and safest skyscraper in the world? Interconnect the design throughout with meaningful, emotional and powerful ideas. Starting from the ground below, to the sky above, preserve the remembrance of 9/11 in a heartfelt way. Let us re-establish the skyline of New York City with four 1,368 foot high towers soaring into the sky. A structure built so that from any angle you will see two towers standing again, in remembrance of the Twin Towers.
Memorial Skywalk Bridge — By Eric Gerdes

The New World Trade Center Memorial Skywalk
Above the new towers, in a sacred airspace, the New World Trade Center will hold pride, the greatest memorial ever built. This structure would create a stunning visual memorial for all to see, it would also raise the joined WTC's height to 2,001 feet.
The New World Trade Center Memorial Park
Below the new towers, on hallowed ground, the New World Trade Center will create a beautiful and serene park with trees, shrubs and water. The Twin Towers Footprints Garden of Remembrance, will be the repositories of the cremated remains of the victims and limited to visits by family. The following cultural elements would be incorporated in the design to help bring full meaning of this memorial.
2. The Skywalk Memorial Promenade
Located on the top of three floors of the four towers and connects each of the four towers, creating the world's best public observatory space. Incorporated into this promenade will be exhibit space giving homage to the heroes, survivors, rescue workers and volunteers od 9/11.
3. Four Key Features
Interconnecting the bridge and promenade
Tower #1 — Memorial Museum
Tower #2 — Youth Center
Tower#3 — Reflection Center
Tower #4 — Cultural Food Center
4. Memorial Square
Located above the Memorial Bridge a breathtaking beautiful outdoor Memorial Park in the sky to be used by workers from the four towers.
5. Memorial Tower
Aviation Control Tower (NYC Airspace could be controlled from here)
Eternal Light (Representation of an eternal flame dedicated to all victims)
Communication Antenna
No matter where you are in any of the towers, you are only a few floors from the safety of another building. Joined on the last floor by the Memorial Promenade, the Memorial Bridge and every twenty floors, The New WTC would without a doubt become the safest skyscraper in the world.
---