DIY: Best Pleat Draperies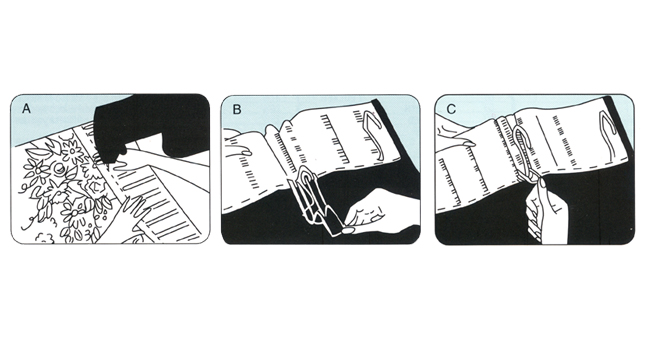 1.A clever short cut:
Prepleat tape with Nip-Tites on rod withal fabric, making any adjustments necessary to reach proper wid Allow Y2″ of tape at each end for turning under. Position pockel so pleat is at turn of rod, and side return is flat (make tuck if needed). Take off rod, remove Nip-Tites, and this plus side her is width of fabric you need-and you know exactly where each pleat is to be placed when tape is sewn or ironed to drapery. (see step 4)
3.Fold tape over on seam to drapery underside;
press so tape i just even with top of drapery. Finish sewing or ironing Bestplec with the Y2″ turned under, down on both sides, and across bottom; a firm foundation for perfect pleats. Insert end pin in end pocket. Skip a pocket, insert prongs of Nip·Tite into next four pockets. Work prongs carefully to the top of tape, guiding arm into middle pleat. Straighten front pleats with fingers . (Illus. B)
2.Finish all except top edge of drapery.
If lined, taking lining even with top edge; sew Bestpleat to both in one step. Place te (dark guide line) of tape, pocket side up at top right side of drapery, and overlap tape about Y2″ onto drapery. Position tape so each end pocket is about Y2″ from drapery edge and allow a extra Y2″ of tape at each edge. Turn this Y2″ tape under at each side and stitch or iron tape across drapery top (guide line prevents sewing pockets openings). (Illus. A)
4.Push hinged lock up and in, to automatically tuck pleat into place.
Skip next pocket, and insert another Nip-Tite. Repeat across drapery skipping a pocket between pleats. Insert end pil in last pocket. Due to varying widths there is not always a precise number of pockets. Make any adjustments near outsidE edge, and balance by doing same on other panel. By inserting hooks from middle out, drapery will be even on each side.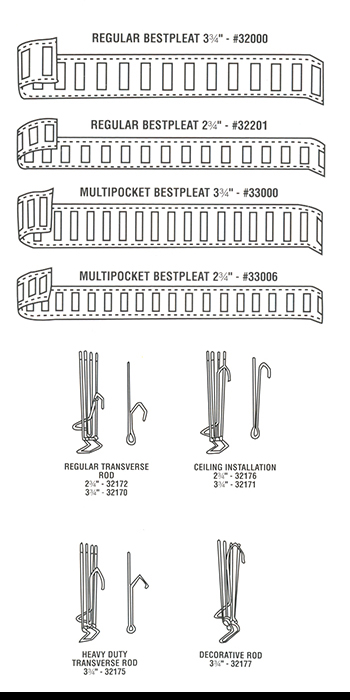 Conso Bestpleat Tapes
The rule of thumb in figuring for draperies is double fullness-twice the width of rod; plus side returns; plus side hems; plus 3″ for overlap if atraverse type. The five different styles of Bestpleat allow you to suite both your desires and your fabric amounts. All are sag-proof with sturdy woven-in pockets to effortlessly create perfect pinch pleats. With hooks removed, Bestpleat can be washed or cleaned without losing its strength.
Conso Bestpleat, in both 2%" and 33A' widths, gives approximately double fullness. 36-inch wide fabric pleats down to 17 inches and 48-inch wide fabric to 22 inches.
Multipocket Bestpleat in 2W and 3%" widths enables you to pleat your draperies to almost any width, depending on fullness and number of pleats desired. See Multipocket Chart on pages 6 and 7.
Canso Nip-Tite Hooks come in awide variety of sizes and styles for every purpose. Only NIP-TITE HOOKS have a "middle arm" that
insures even pleats and a hinged lock (Patent No. 2796928) that locks the pleat in until you remove hook for cleaning drapes. Nlp·TITE PLEATER HOOKS come with an Evergold no·tarnish golden finish. Available in 23,4″ and 3%" lengths packaged 10 pleater hooks and 4 end pins per package. Allow 5 hooks per 48″ of tape plus two end pins.